DIRECTIONS TO MY HOUSE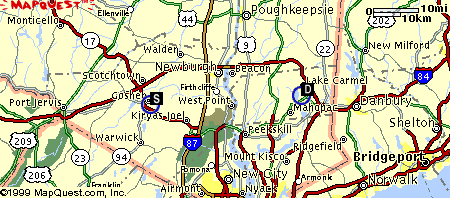 FROM GOSHEN:
1. Go North on Route 17 to I-84 EAST...(4.0 miles)
2. Go East on I-84 EAST (over the Newburgh Bridge) to EXIT 19...(48.6 miles)
(There will be 2 Carmel Exits... Lake Carmel, Exit 18 & Carmel Exit 19 - you want the 2nd exit, "Exit 19")
3. From Exit 19, go RIGHT onto Route 312 at end of Ramp. Follow Route 312 to end - appx. 1 mile. (Junction Route 6)


4. At the TRAFFIC LIGHT (Junction: Route 312 & Route 6) Go RIGHT to next TRAFFIC LIGHT.
5. Go LEFT at TRAFFIC LIGHT onto "Old Route 6".
6. Follow "Old Route 6" to HUGHSON ROAD.
7. Follow HUGHSON ROAD to END.... (Stop Sign at Junction Hughson Road & Stoneleigh Avenue)
---
Look streight ahead. My driveway is directly opposite. You'll see a stone house on the left side, but has it's own driveway. My driveway is shared with the Colonial shingled house up and on the right side of the driveway.
My house is at the top of the driveway, (but you can't see it from the road). Follow the paved driveway all the way to the TOP (about 200 feet) until you can't go any further. You'll see a WHITE STUCCO HOUSE with a Red trimmed door, and curved glass block window.